What a lovely Instagram post of the women's choir BLOESEM ENSAMBLE , Buenos Aires, Argentina:
🔥🎁This year we come with surprises 🎁🔥.  From the hand of @thaddaeus.dorsch.composer, composer of German nationality, we will have the privilege of doing the world premiere of his latest work entitled "Abend wird es wieder", translated as "Eventide falls again". We would like to take this opportunity to greet Thaddäus and thank him for trusting us. The drawing was created by his 16 year old daughter as a Christmas present.  Isn't it beautiful?
Nicolas M. Regueiro, the leader and conductor of Bloesem Ensamble, told me that his girl's vocal ensemble was founded just recently – in 2021. They describe themselves best:
Bloesem is a female vocal ensemble, based in Buenos Aires, Argentina. 
One may wonder why a Dutch word is the name of the ensemble...  the reality is that the word was proposed by @paualexander and its meaning is "to bloom". Our director liked it not only because of its phonetics but also because of its multiple meanings.
- Youth 
- Nature 
- Life
- Colors 
- Smells 
After a few days, another of our choreographers surprises us with ideas for a possible logo, all of them excellent...  a few days later she comes to this conclusion. An ensemble that feeds back on the motivation of the group and of the individuals. A space to vibrate loud and to have a good time.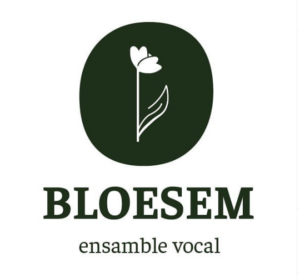 Despite the very short time together Bloesem Ensamble has formed already as an excellent women's vocal ensemble with a great sound (trained by vocal trainer Maru Fedele). They present their first and beautiful performance videos on their Insta page, featuring songs from Eric Whitacre (A Seal Lullaby), Petar Liondev (Kafal Sviri) and Dante Andreo (Que viene el viento). Isn't that a great first women's choir repertoire list?
You will really be surprised by the girls' powerful sound and the fine way of interpretation by their conductor Nicolas M. Regueiro! Best conditions for the world premiere in spring 2022!
Music is deep communication.
Thanks to everyone who is part of this global musical communications network! 🙏